CONTENTS
Chapter 1: Early Life
Birth of La Caille, education for priesthood following father's wish, narrowly escapes poverty, refuses ordination, studies astronomy at Paris Observatory, surveys Paris meridian, becomes professor of Mathematics at Collège Mazarin, builds observatory, member of Royal Academy of Sciences, teacher and textbook writer, believes other solar systems may be inhabited, strong advocate of Newtonianism, precise observer of stars, planets, eclipses and comets, takes account of mutual interactions of solar system bodies, plans visit to southern hemisphere.
Building of the Collège Mazarin, now the Institut de France
Chapter 2: The Cape
Sails for Cape with the hydrographer d'Après de Mannevillette, developes interest in navigation, friendship with Maraldi, meets and befriends Governor Tulbagh, rents part of house in Strand Street from Jan Lourens Bestbier, builds observatory on foreshore, his instruments, makes first telescopic survey of the sky, his catalogue, the Coelum Australe Stelliferum, his new constellations, rubbishes Halley's Robur Carolinum, lists nebulous objects, determines position of Cape, studies atmospheric refraction, observes Sun, Moon and planets.
Cape Town around the time of La Caille's visit (Library of Parliament)
Chapter 3: The Shape of the Earth
Earth's radius derived by combining astronomical latitude observations at two points on a meridian with geodetic surveying of the intervening distance. La Caille proposes a measurement to Governor, reconnoitres the Swartland, makes expedition by ox-wagon with Bestbier and slaves, experiences hospitality at various farms, triangulates from summits of Kapokberg and Kasteelberg, establishes northern station at Piketberg, makes meticulous measurement of Swartland base, comes to surprising conclusion that the earth is pear-shaped, re-checks his measurements and finds no fault with them.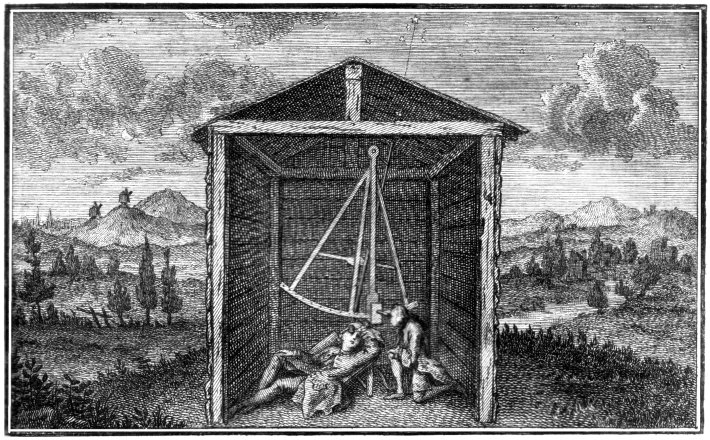 La Caille (lying) and Cassini de Thury making a latitude measurement during the survey of the Paris Meridian. La Caille used the same instrument in the Swartland of the Cape (from Cassini de Thury, 1740)
Chapter 4: Notes about the Cape
Remarks about the Cape from his Journal Historique, Table Mountain, inland travels, botany and zoology, anthropology, his Remarks on weather, food, farming, animals, hospitality, administration, slaves and prostitution, the Khoina (native peoples), denigrates Kolbe (earlier writer on the Cape). Mentzel (later writer) criticises La Caille in turn.
Title page of La Caille's Journal Historique in which he described his visit to the Cape
Chapter 5: Later years
Returns to France via Mauritius and Réunion, overwhelming reception at the Academy of Sciences, his map of the Cape, his behaviour and activities in later life, controversies with Euler and Le Monnier, his students Lavoisier, Benoit and Lalande, friendship with Clairaut, Bouguer, La Condamine and Turgot, later studies of Lunars, solar system objects, his Fundamental Astronomy and Solar Tables, correspondence with Tobias Mayer, return and naming of Comet Halley, Transit of Venus (1761), his swan song, death, burial under the Mazarin Chapel, his effects, memorial, summing up.
La Caille's map of the Cape (from his 1751 publication in the Memoirs of the Royal Academy of Sciences)
Chapter 6: Paradox resolved
Cavendish experiment, visit of Everest to La Caille's sites in 1820, detective work, new large-scale expedition to Swartland and re-measurement by Maclear in 1840s, new baseline, comparison with La Caille's results, conclusion that his work was accurate but affected by mountain masses at his northern and southern stations.

Maclear's camp at Piketberg ca 1842 (from Maclear, 1866). La Caille's northern terminal sites were extremely difficult to locate.