SAAO Cape Town Open Night
Aug 13 @ 8:00 pm

-

10:00 pm
This week's talk: Kgothatso Matlala
The SAAO Open Nights in Cape Town take place on the second and fourth Saturday of every month at 20:00.
All Open Nights will start with a presentation on topics of astronomy or physics. Then, visitors will be given an introduction to the historic McClean telescope, the observatory museum, and the library. If the weather is clear, there will be a chance for stargazing using telescopes set up for the night.
Please email enquiries@saao.ac.za if you have any queries regarding bookings and tours for Cape Town Open Nights.
Speaker: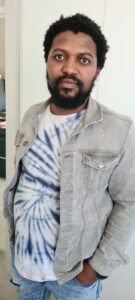 Kgothatso Matlala
Electronics Engineer – Instrumentation Division at the SAAO
Kgothatso was born and raised in Makapanstad, north of Tshwane. During his high school studies, he came across engineering while doing a research project on careers, and that's when he fell in love with it. He then studied electrical engineering at Wits, where he graduated in 2013. He has since worked on a diverse portfolio of projects from missile guidance systems, to integrated radar sensors, and some 4IR projects as project manager. He is currently studying for his Master's degree at the UCT, and is working as an electronics engineer at the SAAO. Some of his passions include amateur astronomy, jazz piano and coding.
Talk Abstract:
My talk is about the use of artificial intelligence to detect and classify live weather conditions for astronomy.
As we know, astronomy is a really interesting field of science. It allows us to see some of the most mind-boggling and beautiful objects in the universe. It is also our own time machine, allowing us to see far into the past.
It is important for astronomy that the sky be as clear as possible. Firstly, telescopes can't see well in the presence of clouds, other light sources and too much atmosphere. Secondly, expensive equipment needs to be safe from dew or rain.
Artificial Intelligence is a branch of data science that lets us train software and hardware to perform tasks independently. This involves collecting large amounts of data, labelling it and feeding it to the AI agent to find and correlate patterns and features in the data. This enables it to recognise previously unseen data and accurately classify it, even if there are differences from the original data.
My project aims to solve the problem of weather condition detection in an autonomous and reliable way. I do this by collecting lots of different sky images, separating them into different categories, training an AI agent to recognize them and then testing it to see how well it performs. The AI agent can become very good at recognising different sky conditions, and can therefore signal for the dome to close, or for the telescope to point to a different part of the sky that is clear.
The project is in a testing phase: the AI is classifying different sky conditions and we will assess the actual images to measure how many times it was correct. If it does well, we will deploy it.