SAAO Cape Town Open Night
Dec 10 @ 8:00 pm

-

10:00 pm
This week's talk: Prof Jose Beltran, University of Salamanca – Spain
The SAAO Open Nights in Cape Town take place on the second and fourth Saturday of every month at 20:00. All Open Nights will start with a presentation on topics of astronomy or physics. Then, visitors will be given an introduction to the historic McClean telescope, the observatory museum, and the library. If the weather is clear, there will be a chance for stargazing using telescopes set up for the night.
Please email enquiries@saao.ac.za if you have any queries regarding bookings and tours for Cape Town Open Nights.
Speaker: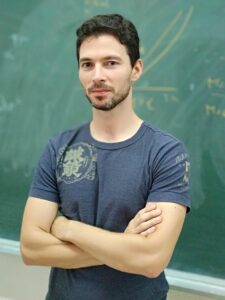 Jose Beltrán Jiménez obtained his PhD from University Complutense de Madrid with a thesis devoted to studying Dark Energy. After that, he has been postdoctoral researcher at the University of Geneva, the University Catholique of Louvain, the University of Marseille and the Institute of Theoretical Physics of Madrid. In 2018 he joined the university of Salamanca where he is now Associate Professor. He has a long-lasting collaboration with the University of Cape Town that he has visited on numerous occasions to carry out research collaborations as well as delivering lectures. His research career has been devoted to studying dark energy, dark matter and theories of gravity.
Talk Abstract:
When the universe says The End.
The universe is a mysterious place full of fascinating phenomena and objects. Some of these objects are still in their youth, such as our cosy solar system or the galaxy that hosts us, and some have already undergone dramatic processes that metamorphosed them into other interesting specimens. This talk will provide a journey throughout the life of different astronomical objects, from stars to the whole universe itself. We will uncover what determines the fate of the different cosmic objects and, in particular, when they can turn into black holes. As for the entire universe, we will speculate on different possible fates and will see how the properties of the dark energy that currently dominates the content of the universe are crucial to unveil the universe's end.