---
Willie's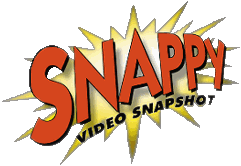 Software Collection
---
Last update: 25 April 2003
---
Since Play Inc. have vanished form the scene sometime during 2001, I got loads of e-mail requests from people requiring Snappy software, drivers and patches that used to be available from their website. This prompted me to put together this page which was orginally sourced from my collection of Snappy related software I had at the time. This was expanded since with contibutions from people visiting who had software still missing from here. All contributions welcome!
PLEASE NOTE: I take no resposibility for any losses that the use of this software may result. I am also not sure about copyright regarding any of this but since Play cannot be contacted any more, giving no support for their products, I cannot verify this either. So use this at your own risk.
---
Snappy Frequently Asked Questions
Before e-mailing me, have a look to see if your question is not perhaps already been answered in my Snappy FAQ's page?
---
Users solutions to common Snappy problems
Still having problems getting your Snappy going, even after consulting this Common Problems and Solutions help page?
---
Downloads
---
NEWS - 4 July 2002:
Global Streams Inc. offers limited Snappy support. See their webpage on 1 Feb 2001 shortly after the buy-out.

Techdepot.com is selling Snappy 4.0 complete for $12.95 (Search for "Snappy" from their website.)
NEWS - 10 Sept 2002:
A Snappy Users Maling List was created in June 2002 ... "For users of Snappy to share tidbits of knowledge, files, resources, graphics, and more!"
NEWS - 15 October 2002:
pcconnection.com is selling Snappy for $12.49 (Do a Product Search on "Snappy" from their website.)
NEWS - 22 January 2003:
A Snappy Discussion Forum was created on 22 January 2003
NEWS - 20 March 2003:
I recently became aware of this alternative support site concentrating on NTSC only, including some historical Snappy material.
---

Back to Willie's SNAPPY page
---
---