SAAO Cape Town Open Night
November 11 @ 8:00 pm

-

10:00 pm
This week's talk: Mr. Willie Koorts
The SAAO Open Nights in Cape Town take place on the second and fourth Saturday of every month at 20:00.
All Open Nights will start with a presentation on topics of astronomy or physics. Then, visitors will be given an introduction to the historic McClean telescope, the observatory museum, and the library. If the weather is clear, there will be a chance for stargazing using telescopes set up for the night.
Please email enquiries@saao.ac.za if you have any queries regarding bookings and tours for Cape Town Open Nights.
Speaker: Willie Koorts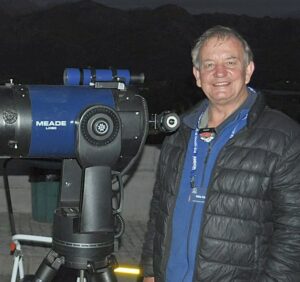 Willie Koorts recently retired from the South African Astronomical Observatory, where he dedicated almost 36 years as an Electronics Technician. His role involved constructing domes, telescope control systems, instrumentation, and CCD detectors, with a specialization in cryogenic and vacuum systems. Willie actively engages in astronomical outreach and stargazing, delivering talks to school, social, and church groups. Additionally, he contributes articles to astronomy journals and outdoor magazines, and for 14 years, he served as a weekly co-host on national radio.
In his leisure time, Willie is an amateur astronomer, telescope maker, satellite hunter, and amateur photographer. He also enjoys creating content for YouTube videos.
Upon retirement, Willie received "The Order of the 74" shield in recognition of his extraordinary service to the South African Astronomical Observatory. To his surprise, he was also honored with a certificate naming an asteroid after him!
Talk Abstract: 
After working for 35 years as a technician at the Observatory, Willie Koorts saw the Sutherland site expand from 4 to 24 domes.  In this talk, he will take you on an extended tour of the Sutherland Observatory, showing behind-the-scenes views of the site, including several hosted experiments.