SAAO Cape Town Open Night
November 25 @ 8:00 pm

-

10:00 pm
This week's speaker: Ms. Kathryn Rosie
The SAAO Open Nights in Cape Town take place on the second and fourth Saturday of every month at 20:00.
All Open Nights will start with a presentation on topics of astronomy or physics. Then, visitors will be given an introduction to the historic McClean telescope, the observatory museum, and the library. If the weather is clear, there will be a chance for stargazing using telescopes set up for the night.
Please email enquiries@saao.ac.za if you have any queries regarding bookings and tours for Cape Town Open Nights.
Speaker: Kathryn Rosie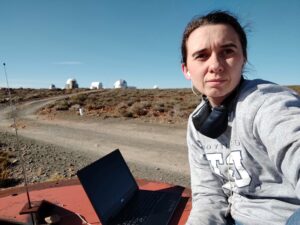 Kathryn Rosie is a Mechanical Engineer in the Instrumentation Division at the South African Astronomical Observatory. She received her MSc Eng at UCT in 2011, with a focus on materials and how they break. She worked at the South African Nuclear Energy Corporation as a structural analyst before astronomy beckoned. In 2015, she joined the South African Radio Astronomy Observatory (SARAO) as a project engineer and structural analyst, and in 2019 expanded to optical astronomy at SAAO, where she is responsible for instrument design and providing technical support to maintenance and operations. She has very little idea of what astronomers actually do, but thinks their toys are really cool.
Talk Abstract: 
A candid look at the different types of instruments in use on the various telescopes on the Sutherland plateau, and the planning and design of new instruments, with a heavy focus on hardware and nuts and bolts. Key examples will include: Mookodi: a new imager and spectrograph on the Lesedi telescope; The instrument selector: bringing the 74-year-old 74″ telescope into the 21st century; Detectors: how do we count light?